Looks Like Christmas
Beef Stir Fry – an Americanized Chinese dish, maybe, but it is fairly easy to make and extremely delicious. My least favorite part is making the sauce, which isn't difficult.
Gather the following ingredients:
Jasmine rice – 2 cups uncooked
Extra virgin olive oil – 2 tbsp.
Minced garlic – 1 tbsp.
Beef – 1 lb.
Chili pepper
Red pepper
Green pepper
Mushrooms sliced – 8 oz.
Black pepper
soy sauce – 1 tbsp.
cornstarch – 1 tbsp.
oyster sauce – 2 tbsp.
MSG – 1 tsp.
Rice cooker
Stir fry pan
Add two plastic cups of Jasmine rice and water into the rice cooker. Set it and forget it.
– you can use other grain rice, but Jasmine is the best for Asian dishes.
Slice the beef into small pieces for stir fry. Cut the peppers into chucks.
– the size of the beef is up to you.
– cut the pepper in half, remove the seeds, cut the halves into thirds and half them again.
Mix the MSG, cornstarch, soy sauce, and oyster sauce in a tall measuring cup. Add half a cup of water and mix completely.
Pour the olive oil into the stir fry pan. Add the garlic, beef, and chili peppers into the pan. Cook on a medium heat for about 3-4 minutes to lightly brown the meat.
– I add enough chili pepper to make it look painful.
– Do not overcook.
Add the peppers and mushrooms. Grind some black pepper for taste. Cook for 2 minutes.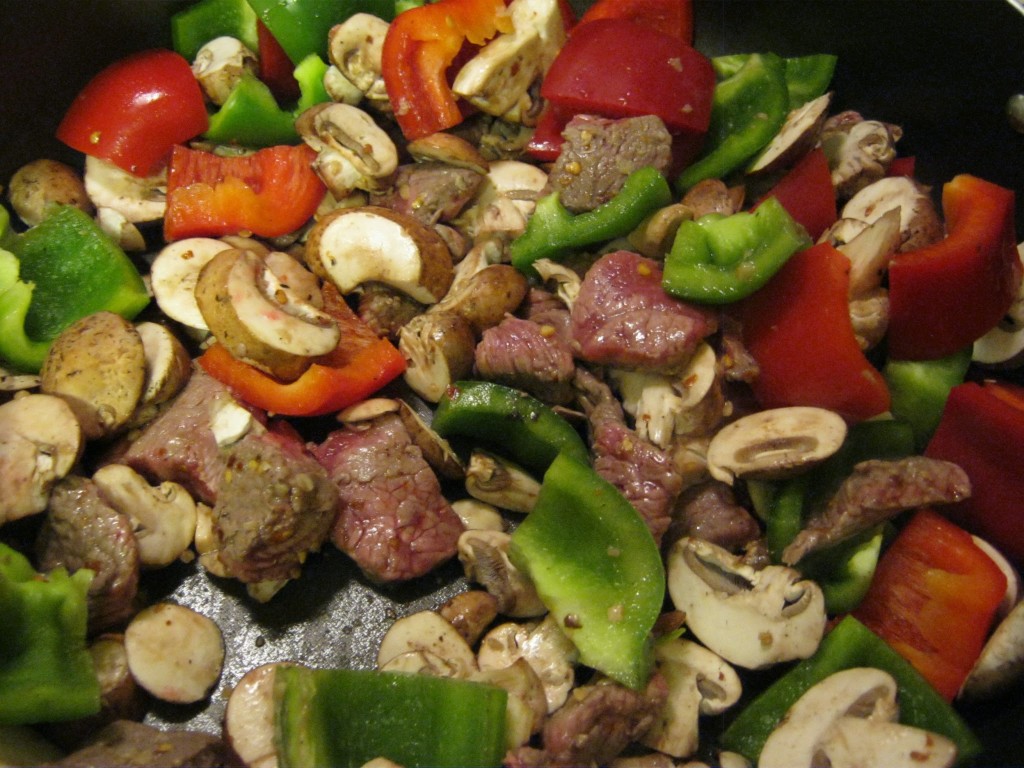 Add the sauce. Cover and cook on low for 3-5 minutes, until the peppers are booked but still slightly crisp. Remove from heat. Allow to cool for 5 minutes before serving over the rice.