Antipasto Salad – a personal favorite, but expensive
Gather the following ingredients:
16 Oz  penne pasta
1 pt. sweet grape tomatoes
1 lb provolone cheese, cubed
1 lb. Boar's Head salami, cubed
16 oz pepperoncini peppers, drained
12 oz quartered and marinated artichoke hearts, drained
1/2 lb Boar's head pepperoni, cubed
Garlic stuffed green olives
1 cup pitted Kalamata olives
red bell pepper
green bell pepper
finely shredded Parmesan cheese
Italian Vinaigrette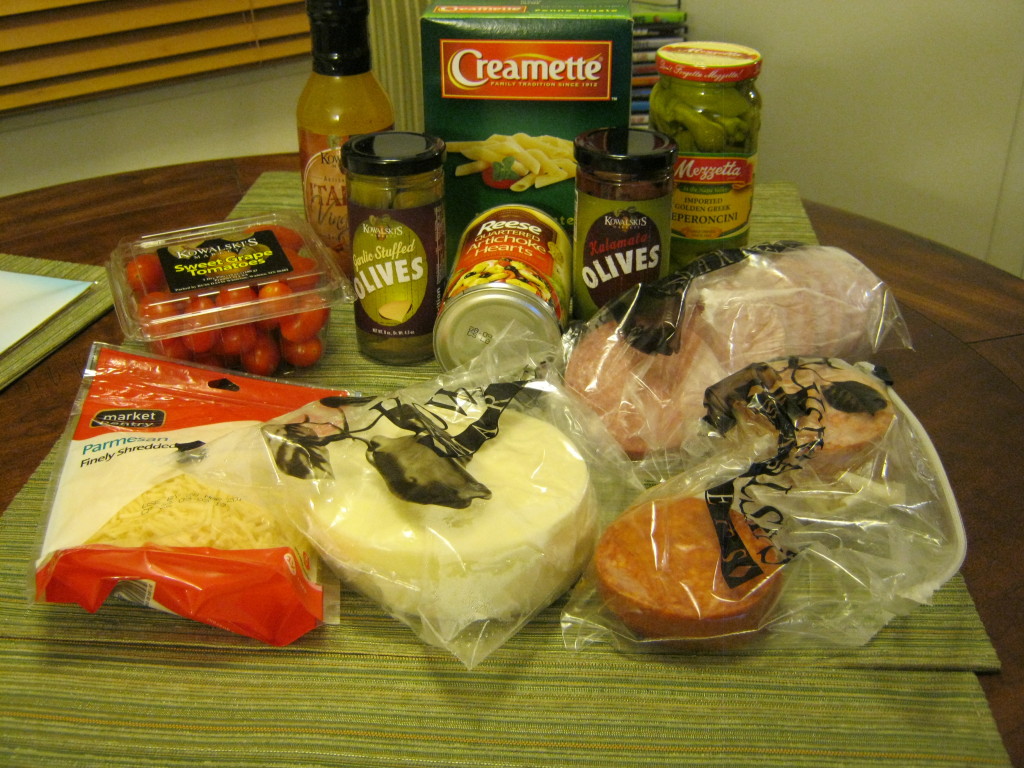 Very large bowl
This makes a ton of antipasto so you can cut the recipe in half and still have a lot of salad.  It is difficult to cut in half.
When you buy the provolone cheese, salami, and pepperoni ask them to cut one or two large slices depending if you need 1/2 lb or 1 lb.  This will give a a nice thick chunk of cheese or meat to cube.
I don't always put in the penne pasta, but if you do go ahead and cook it and drain it and then begin to add the other ingredients.
Cut the peppers into slices like you would for fajitas.
Basically drain all of the juices and mix the items together.  Pour the Italian Vinaigrette over the top and toss.  A salad that eats like a meal.