Meatloaf – Hold the Onions – Always Good This is one of the best and easiest meatloaf recipes you will ever make.
Gather the following ingredients:
1 tbsp. olive oil
1 tsp. kosher salt
9 twists fresh ground pepper
2 pinches fresh thyme leaves or 1/2 tsp.
dried thyme
1/6 cup Worcestershire sauce
3/8 cup chicken broth
1 tsp. tomato paste
2 1/2 lbs. ground beef 93%
3/4 cup plain dry bread crumbs
1 1/2 large egg
ketchup
medium sauce pan
very large bowl
deep metal baking dish (not your favorite one)
Preheat the oven to 325 degrees.
In a sauce pan mix the olive oil, kosher salt, ground pepper, thyme, Worcestershire sauce, and chicken broth. Heat on medium and stir for a few minutes.
– It is easiest to tear apart the fresh thyme, but you can pull off the leaves and try to chop them.
– Use a 1/3 cup and fill it as close to half as you can for the Worcestershire sauce. – Use a 1/4 cup one time and then filled half way for the chicken broth.
– The tomato paste sticks to the measuring spoon, but you just need a small scoop of it so pull some out with a spoon and stir it in the sauce until it comes off.
In a very large bowl add the eggs, beef, bread crumbs, and the sauce pan mix over the top. Knead the mixture together with your hands. Make sure your hands are clean and rinsed. I always find the meat is too cold for my hands, but if it is fresh and sits out while you make the mixture it isn't as cold. Try to make sure the bread crumbs get mixed through and use the egg and mixture to help it all stick together.
– Crack the first egg into your hand and pull it apart tossing half of it away. I do this next to the trash for easy disposal. Then add the second egg. You can crack the egg into a separate bowl first to make sure it is ok to use.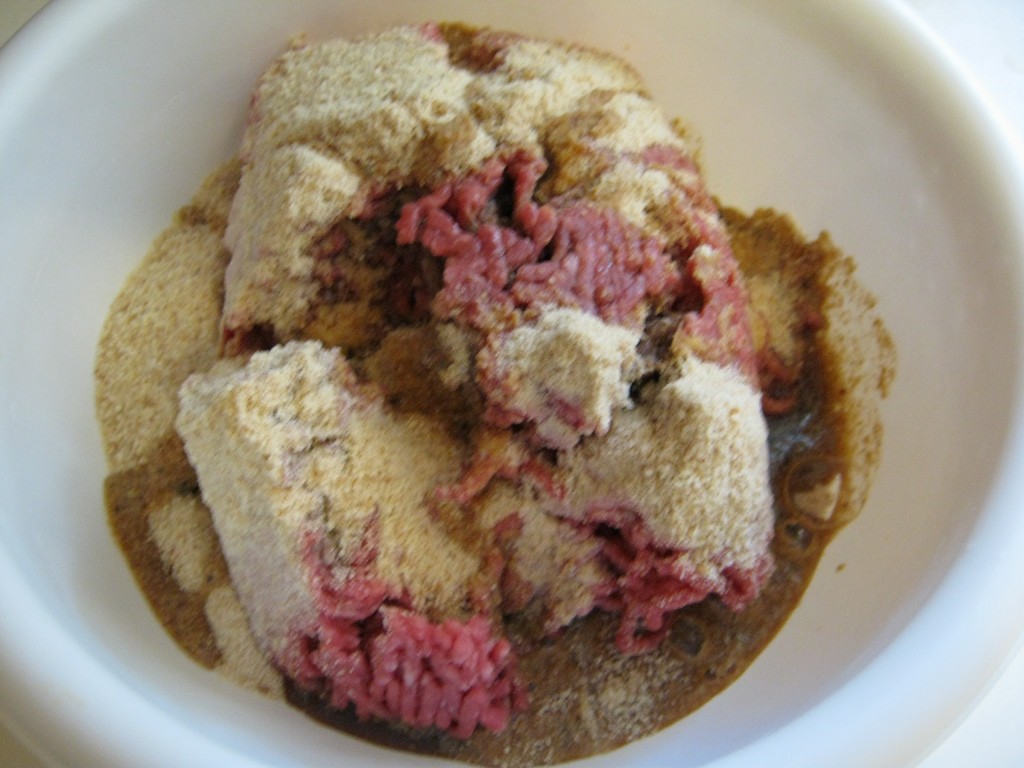 Transfer the meat mixture from the bowl to the deep baking dish and form it into the shape of a loaf. Try to make it as uniform as possible with the same height and same width all the way across.
Bake the meatloaf for 1 1/2 hours. The internal temperature of the meatloaf should be 160 degrees when it is done. Start soaking the pan as soon as you can.
Serve with ketchup. Honestly as long as you buy good beef this will be the best meatloaf you have ever had and as a bonus no onions.