Porter Creek Hardwood Grill, 14201 Burngarten Dr, Burnsville, MN 55306
Porter Creek is what I think of when I describe a high end restaurant.  Not a trendy restaurant.  A genuinely high end, great food, high quality restaurant.
The seating is nice.  You are surrounded by other people, but you feel like your space is your own.  You can hear the person you came with speaking and easily converse with them.  I think it is the multiple levels that keeps the noise down, combined with all of the wood.  There are also walls of wine.  I wish my wine rack was that large and that full, WOW.
The food is incredible.  They make a pork chop that is so tender you won't believe it.  The sauce they serve with it make the meal.  Toss in a large portion of mashed potatoes and your meal is complete.  I went bold and ordered the duck two ways.  They cook it to a medium which was fine for the dark meat portion of the duck.  It made the breast too chewy for my liking.  The meat fell off the bone on the leg and thigh piece.  I heated the breast up the next day and let it cook a little longer.  Incredible.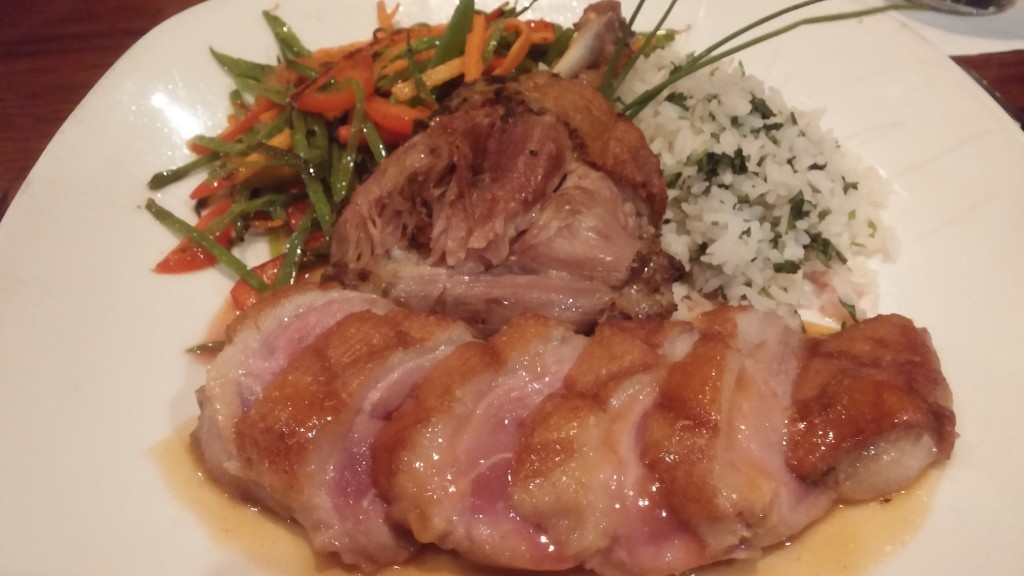 They have some Scott tasting flights that looked very tempting.  The Scott that I knew where all very good.
I cannot wait to go back and try this place again.  The prices are upscale, but so is every aspect of this restaurant.  If you want a great night out with an incredible meal try Porter Creek Hardwood Grill.
---
Tried the Salmon, amazing.